A few days back, I got the opportunity to participate in two visits as an observer. It was a part of the reconciliation programme conducted by the 'Social Justice and Sustainable Peace' unit of Caritas Sri Lanka-SEDEC. Caritas Sri Lanka-SEDEC, headed by its National Director, Rev. Fr. Mahendra Gunatilleke is the social arm of the Catholic Bishops' Conference of Sri Lanka. Caritas' work is community-based and well-being of the family is their main focus. The visits were part of the project called 'Helping people move towards reconciliation' funded by The Catholic Agency for Overseas Development (CAFOD), who are the official aid agency for the Catholic Church in England and Wales. Reconciliation efforts carried out by Caritas Sri Lanka-SEDEC is strongly supported by CAFOD.
First visit was to Batticaloa (Batti for short) with Caritas representatives and CAFOD representative, Mrs. Sumadhu Perera. Batti, a fishing and agriculture district, was severely ravaged by the war. There has been no improvement since the war ended, as a result, the region's Tamil and Muslim population lead difficult lives. People I met painstakingly pointed out that successive governments failed in their post- war-development drives, as not a single industry or factory is established in the district. Due to non-availability of job opportunities, youth have become frustrated and are easily caught up in drugs and alcohol menace. There should be only 19 liquor shops in Batti as per population ratio, but 69 liquor shops are operating in the district. In this scenario, Caritas has taken up the huge task of reconciliation, religious amity, cohesion among societies and awareness about drugs and alcohol abuse.
Caritas Sri Lanka – SEDEC has formed 'Inter Religious Forums' (IRF for short) where people meet and discuss their religious and socio-economic issues. I participated in two of these forums in Eravur and Batticaloa. It was really interesting to hear what people had to say and I was overwhelmed by the enthusiasm they showed. It is heartening to note that people have started to 'think' about reconciliation. A Muslim gentleman said that he rescued and protected many Tamils during the war. A Tamil gentleman declared that he changed his attitude towards Muslims after attending these forums. This attitudinal change is of utmost importance for reconciliation process.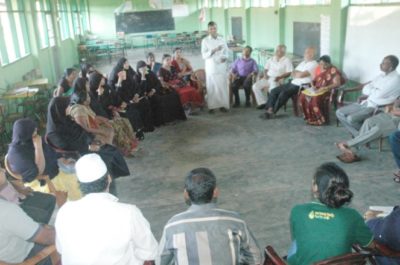 IRF in progress at Eravur.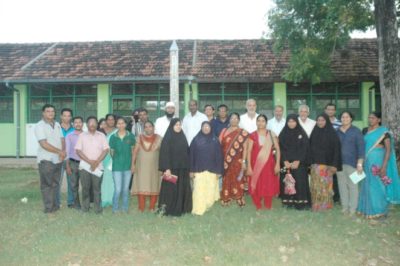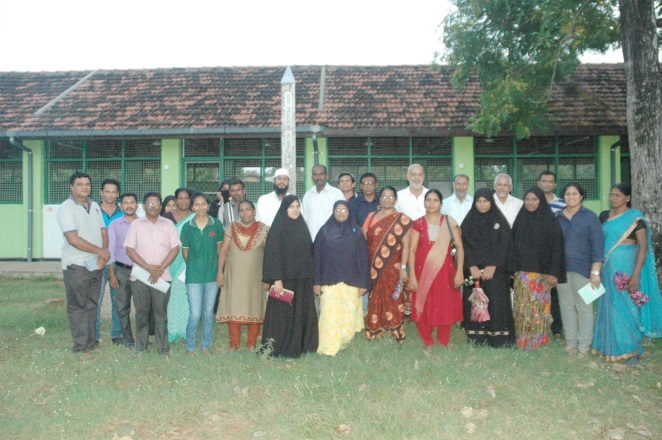 IRF groups of Eravur and Manmunai
A female councillor working at the border villages is helping the agitated youth through counselling.   A retired school principal from Eravur declared that Muslims and Tamils were living in harmony in the past but the situation changed because of the war. He said after joining the forum he was inspired to work towards harmony. A retired Grama Niladhari added that liquor shops have been opened near churches and schools through political backing and he intends to start a campaign to abolish these liquor shops. A Moulavi added that without blaming the government or others, reconciliation should start at the community level. On his 'Exposure Visit' to Badulla he learnt that the Sinhalese had respect towards other races for centuries. A gentleman from the district secretariat said that he assisted Tamils affected by the tsunami. Once he received a complaint regarding Muslim girls working in Tamil-owned shops being abused and ill-treated. He called all the girls for a meeting and they stated that it is only a rumour and they are being treated well. A member of the peace committee managed to sort out personal land disputes among Muslims and Tamils through dialogue. Returning lands occupied by the army is also a burning issue in the area.
Above reflections is ample proof that society is moving towards reconciliation and religious amity. An awareness programme on alcohol and drug abuse was also conducted by a Caritas official, Mr. Freddie Jayawardena who had vast knowledge on the subject. Mr. Jayawardena was involved with 'Drug Demand Reduction and Supply Reduction' programmes of the 'Colombo Plan' project. He was also trained in the United States on the 'Therapeutic Community Model' of drug treatment and rehabilitation. The programme covered different topics related to drug abuse ranging from drug classification by effects to social consequences of drug addiction and the role of NGOs in alleviating the peril.
The programme in Eravur lasted till dusk.  I had time to contemplate on effects of the proceedings, while enjoying the cool breeze from the vast Batticaloa lagoon during the short journey from Eravur. I was elated to have witnessed something meaningful happening towards reconciliation. Had I not been on this visit I would not have known that reconciliation is gathering momentum.
The second part of my fact-finding mission was even more interesting. We headed to Mudunkotuwa in Ratnapura where members of 'IRF' from Batticaloa were on an 'Exposure Visit'. 'Exposure Visits' also known as 'Exchange Visits' are organized so that people living in one village can visit another to observe and learn from their activities. It promotes good practices, customs, culture and a process of building understanding between two ethnic groups. Our team joined them for breakfast at the Buddhist temple of Sri Mahindaramaya where Chief Prelate, Ven. Baththaramulle Dhammarathana Thero welcomed us cheerfully. Group of 45 Batticaloanians who visited, enjoyed the typical Sinhalese breakfast with Kiri Bath, Lunu Miris and traditional sweets while chatting with locals. A cordial meeting was followed where Rev. Fr. Alex Robert, Diocesan Director of Caritas-EHED from Batticaloa, Rev. Fr. Sriyan Fernando, Diocesan Director of Caritas-Sethmini from Ratnapura, two Inter Religious Forum members and Chief Monk of the temple expressed their views. There speeches focused on the importance of religious amity and reconciliation through programmes of this nature. According to the Diocesan Director of Ratnapura, who was the organizer of the exposure visit said that the Ven. Thero insisted that the group should begin their venture from the temple as they are the agents of reconciliation and invited the group for breakfast.
One of the members from the forum said that the typical Sinhalese welcome they received with a sheaf of betel leaves was a novel experience for them as they did not know about this Sinhala custom. The visit was a platform to get to know the culture of Sinhalese. In her speech, a female Muslim member of the group from Katankuddy was ecstatic about the proceedings. She said that in her area women are not allowed to go out but she was allowed to join this visit as it was organized by the forum. Participants described the activities of the Sri Mangalarama Buddhist temple in Batticaloa towards reconciliation. The temple helped the people during the war and tsunami. Chief Prelate is visiting houses and functions to promote peace despite objections from certain elements in the society but is determined to carry out his peace efforts.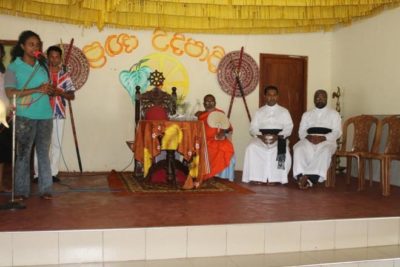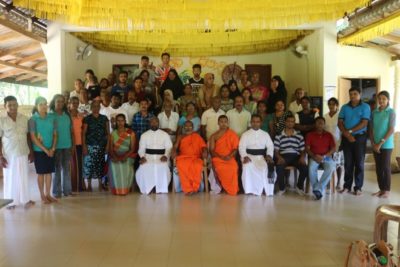 Welcoming IRF group from Batti  IRF group at the temple
        It was time for lunch which was arranged by an 'IRF' member in a village nearby. The meal was a typical, Sinhala, village-type lunch which all of us enjoyed. The invitation to have the meal (with a glass full of water) was a novel experience to most of the visitors. After lunch, the visitors from Batti worshipped the famous 'Saman Devalaya' in Ratnapura accompanied by their Sinhalese counterparts. They visited 'Nelugolla', an adjacent village and exchanged views with locals. Some of them learned to play the 'Raban', the traditional drum played by village damsels during Sinhala and Tamil New Year.
This was a highly successful mission of moving people towards reconciliation and only a fraction of work Caritas Sri Lanka – SEDEC is working on with the sponsorship of CAFOD. Caritas Sethmini in Ratnapura and Caritas EHED in Batticaloa should be commended for their relentless efforts in bringing these two groups of people together.  For me, these experiences were overwhelming. I expect to see the light at the end of the tunnel as far as reconciliation is concerned.